Friday, July 7th -- Monceaux le Comte to Sardy (18.5 km , 16 Locks, 4 Bridges)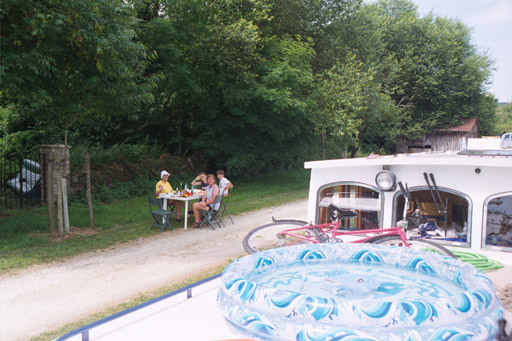 Today was the final big push to make Sardy, our final destination. We had no choice but to make it by the end of the day.

I got up early and walked in to town to get our days ration of bread, croissants, and pain au chocolats.

We got the motor started and were underway by 9:00. Julie went ahead to raise the first drawbridge. She rode down the towpath on her bike and had it almost all the way up by the time we got there with the boat.

The locks were getting more and more intense as we got closer to Sardy. The lifts of each lock were greater than down river, and they were getting closer and closer together.

We paired up with a Canadian family for awhile. They were returning their boat to Corbigny after a one week trip. There were three of them aboard a much smaller boat. And while it was smaller, it appeared to be much easier to maneuver.

We had our last lunch on board the boat in the French countryside. Nothing fancy, just the usual. It was kind of sad realizing that the trip was almost over.

Lunch done, we were pulling up to the next lock at 1:00. We were just starting a series of locks where each lock keeper was responsible for a series of locks. They drove up and down the tow paths in their little Renault service vehicles. Julie was even able to catch a couple of rides with them instead of having to ride her bike. In hindsight is was probably safer.

These guys drove around like little bees, passing information about boat traffic as the passed one another. They drove like mad men, accelerating quickly and slamming on their brakes as they got to the next lock. We had run out of the Visa Olympic pins by this point, so smiling mercis was all we could offer.

One of our last locks could best be described as hell on earth. After 50 or so quaint and bucolic lock settings, this was something else. It was surrounded by a quarry and right next to a stamp mill that was pulverizing the rocks in to a fine powder. The noise was deafening and dust coated everything. We could not even hear each other when we were yelling. Evie took the boys below and shut up everything. Julie and I stayed above decks doing our lock thing. It was a very long 15 minutes in Dantes Inferno!

A couple more locks and we were in Sardy at the lock house used by Burgundy Cruisers as their southern base. Their representative there, Brian, directed us to our mooring, hooked up our electrical, and helped us fill our water. We also saw that our rent a car had been moved there from Vermenton.

We were all secure by 5:00. At 5:30 a thunderstorm hit with a vengeance. Christopher loved the lightning and thunder. Sitting inside watching the storm we felt very lucky that worked as hard as we did. It would not have been fun to be out on the canal.

We all showered and put on clean clothes (the first time I wore pants in a week!). We drove into Sardy (because we could, not because we had to) and went to a little bar in the center of the village. Rural France is a most reasonable place to eat. Julie had the plat de jour for 70FF (about $10). She had an appetizer of assorted meats, chicken with mushrooms and creme fraiche, and ice cream for desert. A similar meal in San Francisco would have been $20 to $30 dollars. The owner of the bar even agreed to drop croissants off at our boat in the morning--you dont get service like that too often.

We went back to the boat and began to pack up. We got it almost all done and went to sleep for our last night on the Madame Leslie. It was a wonderful week on the Canal du Nivernais.