How We Selected Our Boat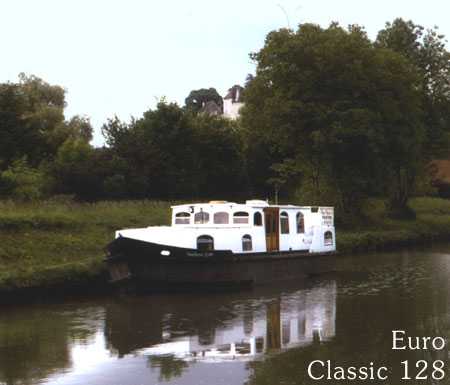 We had selected our boat, the Madame Leslie, because it had three dedicated bedrooms, two baths with showers, and a large main salon area to relax in. Several other boats had salons that the dining table converted into a bed, but we liked the idea of having a dedicated living area.

The galley had two refrigerators, a four burner stove, and most importantly two work areas. Plenty of room to cook our meals in.

There was a large deck area towards the bow that had enough room for us to put up a small inflatable swimming pool on to keep cool in. At the stern there was a sundeck area with a patio table and umbrella, a perfect spot for an end of the day glass of wine.

There were both internal and external steering positions, but the rear external was by far the easiest to use. Being able to see the whole boat when steering through a narrow canal is a big advantage.

Burgundy Cruisers, the charter company, runs an excellent operation. Their boats are kept in fabulous condition. They were very helpful through the whole process and always available by phone if you had any questions. You can also rent barbecues and bikes through them. While we only used the barbecue once, the bikes were a must have.