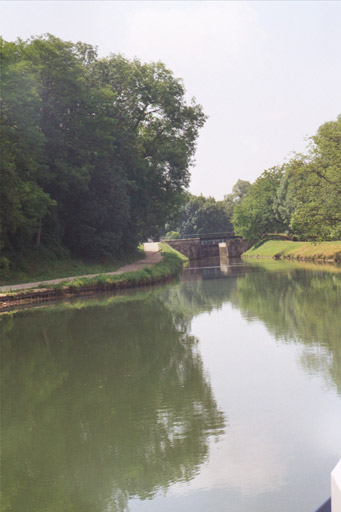 I steered a relatively straight course down the embranchment canal towards the next lock. While it was a little scary to see Steve go, it was a feeling of freedom realizing that we were doing something so unusual (at least for Americans) on our own.

We did pretty well on the first lock all by ourselves. We realized that the lock keeper probably saw all sorts of things happen being the first lock that people had to do solo. As we began to work the lock the wind started to pick up and there was thunder and lightning in the distance. The lock keeper taught Julie the French words for thunder and lightning.

Shortly after leaving the lock we began to get some sprinkles, that then turned into a light rain, then a heavy rain, and finally a heavy downpour with strong winds. Julie and I worked to get us over to the side of the canal, pound in the mooring stakes, and tie up. By the time we were secure we were soaked!

With water streaming down our faces, we looked up at the boat and there were Evie, Patrick, and Christopher laughing at us from the dry cabin. Evie was even taking pictures of us. A few minutes later the storm had passed and the skies cleared. It became quiet and beautiful. We motored down the canal so we could moor just before the next lock.

Dinner our first night was camembert cheese, pate de fois gras, bread, and wine. The kids had tortellini--just like at home. It was an early night to bed for all of us.

At midnight I head some loud booms. Not knowing what was going on, I went into the salon and looked out the windows to the north. There I saw giant fireworks going off over the village of Cravant. What a way to mark our first night aboard the Madame Leslie.