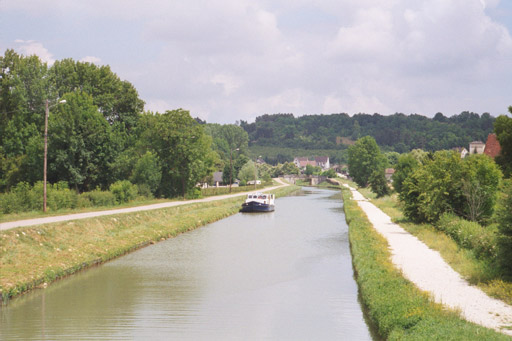 Our goal today was an easy one, Chatel Censoir. We got through all but one lock by the noon shut down. We were able to stop for lunch just below the last lock.

We spiked the boat and walked above the lock to find a good place to moor for the night. There was a great spot right next to the lock. When the lock opened at 1:00 we went through and grabbed that spot. It even had water and electricity.

The lock keeper directed us to a restaurant down by the train station. Of course it was closed. As we walked toward the center of town we stumbled on a small (5 table) restaurant. They had one plat de jour left (chicken, beef, lamb, beans, and couscous) and were also able to dig up two steaks with pomme frites. It sure filled our bellies as it was 2:00 by the time we got to the restaraunt.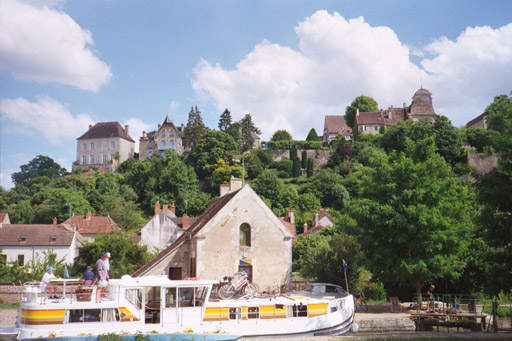 In the harbor area we met an American couple who dont have a home on land, but own two boats. One of theirs is a power boat in Florida for the winter months and the other is a 21 year old Dutch canal boat for summers in Europe. This was their fourth summer in Europe. The first two they spent in Holland and the last two in France. They were very friendly and more importantly gave us two much needed rolls of toilet paper and a roll of paper towels. All we were able to offer them was a 4 day old English paper, but they were glad to get it.

We ate dinner outside on the sundeck, enjoyed watching the light changing colors on the hillside buildings as the sun went down. We can now understand how the impressionists got the inspiration for many of their paintings. The clouds and skies in France at sunset are spectacular.

There was a house near our boat that had music playing most of the day. The woman that lived there brought out her rabbit for Christopher to pet. Julie told her (in French) that Christopher had two rabbits in his class at school, as well as four ducks. Christopher loved playing with the rabbit.

There was a small dinner party that night at their house that got rather silly. One of the guests put on a funny hat and got a guitar and tin can and pretended that he was a street musician. While he sang for coins, his friends were videotaping the whole episode. Everyone was laughing very hard. The owner of the house brought us three glasses of a 20 year old burgonone blanc wine that was fabulous. Its wonderful how good spirits and wine can overcome any language barrier.

Thunder and lightning began around midnight. We took it as an early celebration of the Fourth of July back home. And all in all, we decided that we were lucky to be in France.