We flew a Boeing 777 non-stop from San Francisco to Paris and decided that is the perfect plane for long flights with kids. Each seat had its own TV so they could watch whatever they wanted non-stop, including Disney cartoons!

Evie was flying in the next morning from Dallas.

Thursday, June 29th -- Paris
We arrived and checked in to the Sheraton at Charles de Gaulle airport. We selected the hotel because it is attached directly to the airport and would make it easy to pickup Evie the following morning.

Julies sister and her family arrived in Paris earlier in the day and were staying at an apartment in Paris. We made a call to let them know that we were coming in to Paris to see them.

There is a train station right at the airport, so were able to quickly get an RER train in to the city. The kids were pretty tired at this point, but Christopher perked up when he caught his first glimpse of a Paris site -- Sacre Cour.

We met the Zambettis near the Pompedieu Center and immediately went to find a place to eat. We found a nearby creperie where we were able to sit outside and eat some wonderful crepes. I had always thought of crepes as a breakfast or desert dish, but my crepe with ham and gorgonzola was out of this world.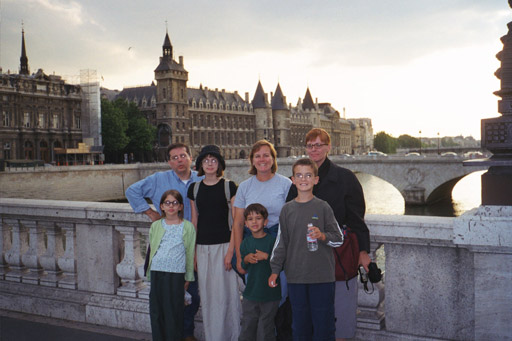 We then walked to Notre Dame which all the kids enjoyed. Then a short stroll over to Bertillon on Isle Saint Louis for an ice cream dessert. The jet lag was quickly catching up to us so we said good-bye and headed back out to our airport hotel. We all went to sleep very quickly and soundly that night.
Friday, June 30th -- Paris to Auxerre
Evie (Julies mom) arrived in the morning from Dallas with no problem and we picked up our rental car and headed towards the periphique. The periphique is a highway that circles Paris like a beltway. Almost as soon as we got started we hit traffic, but finally made it to the A-6 heading south to Auxerre.

We had no idea what to expect in Auxerre. We could not pick up the boat until Saturday, so we wanted to stay somewhere near the Burgundy Cruisers base in Vermenton. Julie found a 3-Star hotel in Auxerre on the internet called the Parc de Marcheau. The hotel was built during Napoleon III (the 1840s). It had beautiful gardens and is furnished with antiques. Is very well located for the city center. We highly recommend it for both its beauty and value.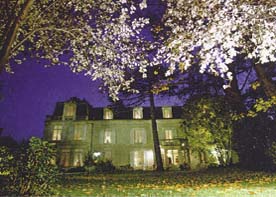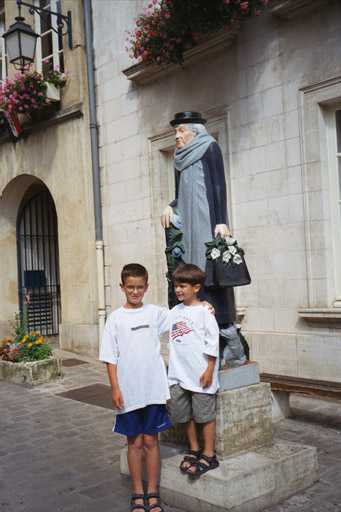 Auxerre sits right on the River Yonne. A large cathedral sits on a hill overlooking the river. The City Center is very quaint. There is an medieval clock, half-timber buildings, and carved whimsical statues throughout the pedestrian area.

That night we had dinner at a nondescript bar with wonderful food. The kids enjoyed hot dogs and pomme frites, Julie had escargot burgononne (the kids thought it was gross) and a fancy salad. Brian had grilled lamb with three sauces--the blue cheese sauce was wonderful.

Auxerre is a city that one could easily spend a couple of days in. We saw very little during our one night stay, but we saw enough to know we want to go back again.

Back to the hotel for another good nights sleep, then off to pick up the boat the next day!